Thanks for stopping by and checking out my blog.
First of all, let me get the introductions done...I am Lindz, obviously. I am a mom of three kids...boys no less all 6 and under, so you can imagine the shit that goes on in my daily life, but thats all for another day.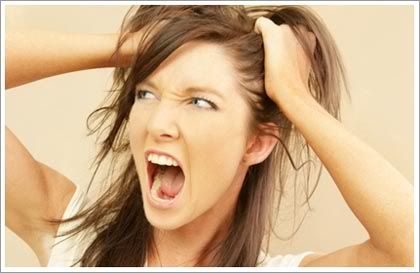 *So not me....She's pretty even pulling out her damn hair!
I am married and have been for a few years, yeah, my babies' daddy and all. I have a lot of interests, mostly on the creative end. I enjoy learning new shit and am mostly self taught. I have a bachelors in English Lit but have NEVER used the $20,000 piece of paper that took me too many years to get.

I spend way too many hours on the computer writing, reading, chatting and now fucking blogging. I seriously can't believe the number of social networks that are out there, and that I am a part of. Srsly...If I cant find you on FB, then its Twitter, then messenger, then good ol' MS, but if I want to, I can find anyone.


Crazy. Stalker.
I have met a ton of really cool people and some have come to mean a lot to me, yeah, online and no, they are not middle aged old men getting off. And if they are, well, they are fun to talk to and they make me laugh, so whatever.



My point is, I sometimes can be fucking hilarious, bitchy, and most often opinionated. I hope you come around and check shit out, and hope to make you laugh at least once in a while.
Later Gaters...
PS...I love all things Twilight, mostly Edward Cullen, Mr. Pattinson himself, so I am bound to bring that up quite regularly...if you have a problem with that, dont bother staying and I really don't give a fuck what you have to say!
Hugs 'n' Rubs
~Lindz